Precision Gears
Gears For Aerospaces, Agriculture, Robotic Arms, Transmission, Industrial Machines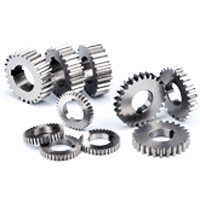 Six Star Grop is founded in 1975 by six brothers, having 40 years of experience on manufacturing gear products. By focusing on precision gears, Six Star offers gears for a broad range of industries, including machine tools, aerospace, agriculture machinery, robotic arm, Engine transmission, hydraulic pumps and industrial machines. Six Star ensures details of each manufacturing processes are all well planned and executed. Moreover, we use machine tools from Switzerland, Germany, USA, and Japan to make gears comply with DIN, AGMA, JIS, and GB quality standards.

To meet capacity demands, Six Star constructs a new manufacturing plant and headquarters in The Taichung City Precision Machinery Innovation Technology Park. This plant is with 19,140 square meters area and starts running production from 2013. Furthermore, Six Star invests on new machine equipments which include Gear grinding machines, bevel gear machines, Measurement machines and other basic machine tools for production usage. With new facilities, Six Star can offer increased capacity and more advanced manufacturing processes using the latest technology. Six Star aims to offer top quality, shorter lead time, and reasonable cost of gear products to each esteemed customer by this great milestone.
A High Performance Gear Portfolio
To keep on the forefront of gear innovation, we invest significantly in both hardware and software improvement, including state-of-the-art gear design software and CNC gear machining equipments. The result is a broad, high performance gear portfolio which includes cylindrical gear (internal and external), worm & worm gear, bevel gear, non-involute gear, herringbone gear, helical gearboxes and Epicyclic gearboxes.
---