Spline Rolling Machine
Cold form Spline Rolling Machine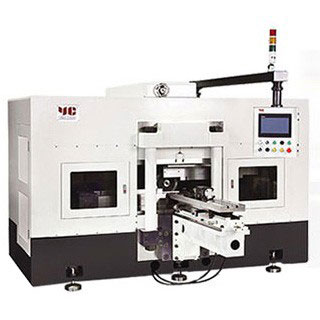 The concept of Spline Rolling Machine(Cold form rolling machine of splines) was conceived more than10 years ago. YIEH CHEN R&D team takes around 3 years to develop this model.
The Spilne Rolling Machine is inherently accurate, with surface finishes of 3 to 6 micro-inches obtainable. Spline Rolling is best suited for long production runs or intermittent runs of a variety of parts. It's the fastest and most economical method of producing involute toothed forms.
Spline Rolling Machine is using Rack die/cutter instead of Cylinder thread rolling die; many different types of splines, serrations, oil grooves, worm gears, screws, knurls, threads and similar forms can be rolled in individually or in combination in just 3 to 7 seconds.
This machine meets our group policy "Give organization vitality; Give system life; Give company development and Give customers satisfaction."
---