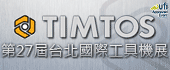 TIMTOS 2019
Suprema spatium exhibent supra 100,000 metra quadrata, faciens TIMTOS secundum instrumentum machinae maximae in Asia ostende.
---
30 Nov, 2018
Exhibition Details
Data: Martius 4- Aprilis, 2019
Locus: Taipei, Taiwan - Nangang Exhibition Centre Hall 1, 4th tabulatum
Booth No:  M1102
Website: www.timtos.com.tw/en_US/index.html
E-CATALOGUS
Plus notitia!

Download
TIMTOS 2019 - Thread Rolling, Spline Rolling & Forming Machines Manufacturer | Yieh Chen
Sita in Taiwan,Yieh Chen Machinery Co., Ltd.bracchia praecisio fuit, stamina volubilia et machinarum machinarum fabricatio. Praecipui anni et machinis, includunt calces calceos, anni helicas, machinas volventes, spline machinis volubilibus, machinis multi formatis et machinis specialibus propositi, cum instrumentis machinis ex Helvetia, Germania, USA, et Iaponia ut anniculos parere DIN, AGMA; JIS, GB signa qualitatis.
Yieh Chen Machinery Co., Ltd.est fabrica calces calces pro aere cochleae compressoris, cnc lesti, machinis centrum, machinis excudendis et pluribus. Etiam nos stamina volubilem machinam qualitatis praebemus, spline volvens machinam, multi machinam formatam. Yieh Chen Machinery Co., Ltd est affiliatus Sex Societas stellarum. Sex stella in 1975 a Sex fratribus condita est et artificiis artificiis subtilitatis fabricandis deditus. Yieh Chen Machinery anno 1984 in mercatum machinationis industriae constitutum est et dedicatum est producere Thread machinam volubilem et machinam volubilem Spline alta qualitate et vita durabilis.
Yieh Chen clientes precisiones anniculos obtulit, sequela volventia et machinas formans, cum summus qualitas fabricandi et XXXI annos experientiae, Yieh Chen singulas petitiones emptoris efficit obvias.
View our high-quality products
Calcar Apparatus
,
Helical Apparatus
,
vermis Shaft
,
Cochleam Bevel Apparatus
,
Subtilitas Calcar
,
Helical Apparatus Rack
,
Post Rolling Dies
,
Post Rolling Machina
,
Auto Feder
,
Spline Rolling Machina
,
Multi rursus Machina
,
SPM pro Auto Partibus
,
Stud
,
Bolt
,
& Fastener
and feel free to
Contact Us
.