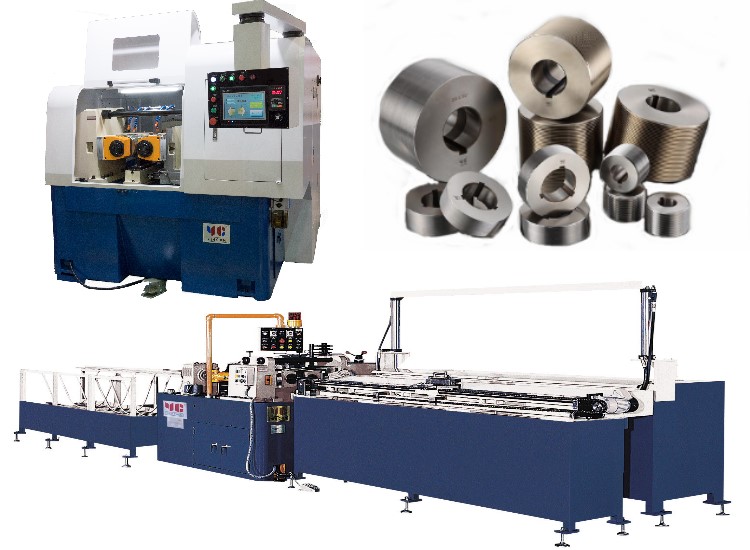 Thread Rolling Machines
Hydraulic, Cam Driven And 3 Roll (For Tube) Thread Rolling Machine
Yieh Chen Machinery offer customers rigid machines with function of precision, durability, simple operation and easy maintenance with competitive price. Morever, Yieh Chen also design fully automatic feeding system for thread rolling machine. The entire automated production lines are all included in our range of service in order to provide total solution for customers.
---
Yieh Chen Thread Rolling machine series are remarkable in terms of workpiece quality requirement, easy to operate & maintain, and durability of machine lifetime. The possibility of connection to an automatic system and output is another brilliant design for customers who have special needs.
The general characteristics of all machines series are:

A very rigid iron cast frame or modifiable steel plate machine bed.
Hydraulic type and Cam-Driven rolling type force.
Rolling force from 4 tons to 100 tons.
Plunge (in-feed) and through-feed rolling.
Two and three cylindrical die rolling for various material type (bar, rod and tube).
Easy to operate, changeover, and maintain.
E-CATALOG
Get more information!

Download
Hydraulic, Cam Driven And 3 Roll (For Tube) Thread Rolling Machine | Thread Rolling, Spline Rolling & Forming Machines Manufacturer | Yieh Chen
Located in Taiwan, Yieh Chen Machinery Co., Ltd. has been a precision gears, thread rolling and forming machines manufacturer. Their main gears and machines include, Thread Rolling Machines, spur gears, helical gears, thread rolling machines, spline rolling machines, multi forming machines and special purpose machines, with machine tools from Switzerland, Germany, USA, and Japan to make gears comply with DIN, AGMA, JIS, and GB quality standards.
Yieh Chen Machinery Co., Ltd is the affiliate of Six Star Group. Six Star was founded in 1975 by Six brothers and devoted to the manufacturing of precision gear products. Yieh Chen Machinery was established in 1984 into the market of machinery industry and is dedicated to produce Thread rolling machine and Spline rolling machine with high quality and durable lifetime. Yieh Chen Machinery Co., Ltd. is a gear manufacturer of gear for air screw compresser, cnc lathes, machining center, printing machines and more. Also, we providing quality thread rolling machine, spline rolling machine, multi forming machine.
Yieh Chen has been offering customers high precision gears, thread rolling and forming machines, both with high-quality manufacturing and 39 years of experience, Yieh Chen ensures each customer's demands are met.